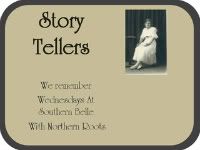 Story Tellers is a new weekly feature hosted by Shannon at
A Southern Belle with Northern Roots
. I am using this weekly link party to transcribe an audio tape and tell the story that my grandfather recorded in the early 1980's a few years before his passing. If you missed Part 1, you can read it
here
.
Part 2 begins with my grandfather giving the history of his father, Francis Robert Bunker.
*****
His interests at the time were more or less concerned with working. After he left school, his father put him to work in the woods; he also worked in the shingle mill and was hired out to various farmers in the area. He left Franklin, Maine in 1912, I believe at the age of about 14, possibly 1911, I don't recall exactly. Went to work in Concord, New Hampshire for his uncle (unintelligible) Phillips who owned a grocery store. He delivered groceries in the Concord Heights area, which was then known as the Concord Plains, to patrons of the store, he delivered by hose and wagon. The store was owned by his mother's brother (unintelligible) Phillips who was in partnership with a man named Downing.
While he was in Concord, he became acquainted with my mother and began a courtship with her. For a short time he worked in Gardner, Massachusetts in a needle factory and while there he took instructions in the Catholic faith in order to marry my mother. At that time it was very difficult, if not impossible, for a Catholic person, man or women, to marry anyone outside of the Catholic faith. So when they decided to get married which occurred in May of 197…um..1917 he had been by that time converted to the Catholic faith. For a convert he was probably one of the best Catholics you could ask for, in his own way. He didn't wear his religion on his sleeve so to speak but he obeyed all the laws as best he could, went to confession 2-3 times a year as I re call, and made sure all his children went to church faithfully.
Francis Robert Bunker, Maine, date unknown
But going back prior to his leaving Franklin, Maine and the days following his days leaving school he spent all the time he could hunting and fishing and playing baseball, which is the love of his life you might say, as far as sports were concerned. He told me he and his father use to catch fish in the various ponds that surround Franklin, Maine. Not so much for sport but to pack them in barrels and shipping them. Of course they were packed in ice and were shipping them to Boston. Fish consisted of salmon, lake trout, brook tout,… whatever they could catch. This was just a source of revenue in addition to my grandfathers trade as a stone cutter. Getting back now to the time when he came to Concord, as I say he married my mother in May of 1917 at which time he secured employment at the Boston and Maine Railroad in the baggage room, subsequently in the freight house and then caught on as a car inspector, which was his main occupation in life. He spent close to 40 years at that trade, being a car inspector. His hobby, which you might call interests, was strictly baseball. He played in the Sunset League here in Concord, New Hampshire, also in the Twilight League. He was an excellent pitcher one of the best around, much sought after by various teams to play on Sundays and various localities, but he told me he never went out of town, only on rare occasions. He preferred to stay at home. He use to tell me that when we use to live on the Heights, in order to play ball he'd have to wheel me in a baby carriage from the Heights to White's Park. He use to tie the carriage to the tree near the first base dug out or bench while he was playing. My mother never cared for baseball and therefore never attended any of the games, only on rare occasions. After his employment began as a car inspector he, huh… he worked long and very hard hours. During the depression, when work was real scarce, he sometimes didn't work more than one or two days a week and he sought other odd jobs. But we were never hungry, we always had something to wear, my mother was a terrific seamstress and made most of our clothes. He retired from the Boston and Main Railroad shortly after my mother's death in 1960. Spent his time there after, until his death, pursuing his hobby, or interest you may call it, in gardening. He always maintained a big garden down on (unintelligible) Street. He grew everything, more than we could eat and he gave most of it away to the neighbors, the Sisters of Mercy Convent also to the nuns at the Convent on Pleasant Street.
*****
I need to make a correction to last week's Story Teller, Part 1- because my grandfathers New England accent is so thick I often misspell words. The family name that I listed last week as 'Colonge' is really Coulombe.
Thank you for joining me for Story Tellers. If you would like to participate or read other stories just head over to
A Southern Belle with Northern Roots
to get the details. I hope you join me next week and until then keep an eye out for my Fall Favorite #3 coming later this week.