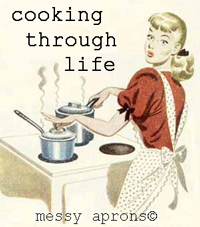 Back in October the lovely ladies,
Amanda
, Leslie, and
Lindsey
, from
Messy Aprons
held a giveaway for a Vera Bradley Recipe box containing all the yummy recipes that they have featured. (I am a HUGE Vera Bradley fan) The ladies asked followers to leave a comment telling everyone what their favorite Fall meal or treat was. Here is what I said:
Cortney Lyon
said...
My favorite fall food is a tie...anything made from apples and any kind of soup. I am going to be posting soon about my favorite soup-it's a Roasted Red Pepper and Red Chili Corn and Potato Chowder...I need to come up with a shorter name for it though. Any ideas?
Although I didn't win, it did inspire me to get back into the kitchen this fall and try some of my favorite recipes again. The girls were nice enough to respond to my comment via e-mail and helped me come up with a much shorter name for my favorite chowder recipe. So, my formerly named Roasted Red Pepper and Red Chili Corn and Potato Chowder has officially been re-named
Fall Chowder
thanks to the gals at
Messy Aprons
.
And now I'd like to share that recipe with you! I will warn you that this chowder is very spicy according to my pallet, so feel free to tinker with it to please your taste buds.
Ingredients
2 cans of
Campbell's
Creamy Potato Soup
2 cups milk
1/2 of a red bell pepper
1 red chili pepper, seeded and chopped fine
1 orange hot pepper, seeded and chopped fine
1 clove garlic, chopped fine
1 cup frozen sweet corn
1/2 tsp. Coriander Powder
1/2 tsp. Cumin Power
Directions
1.) Quarter the red bell pepper and put 2 quarters away for a rainy day. Take the other 2 quarters and lightly brush with oil and place in a lined baking dish. Broil red pepper for 10-15 minutes on high until the tops start to blacken. Remove from broiler and let cool.
2.) Finely chop 1 clove garlic, 1 red chili pepper, and 1 orange hot pepper. When the red bell peppers are cool enough to touch, peel off the blackened skins and chop the roasted red pepper quarters into small pieces. Place all chopped ingredients into a medium/large pot.
3.) Over medium/ high heat saute peppers and garlic. Add 1/2 tsp. Cumin and 1/2 tsp Coriander while sauteing. I don''t know how long to saute them for, I just know when it starts to smell REALLY good that I start adding other stuff.
I love the smell of Cumin
!
4.) Add 1 cup milk and then add both cans of
Campbell's
Creamy Potato Soup followed another cup of milk. Whisk together until smooth.
5.) When the mixture starts to bubble around the edge of the pot, add the frozen corn.
6.) Simmer, uncovered for 15 minutes. Season to your taste if needed. If it's too spicy try adding a little bit of heavy cream or half & half.
7.) Serve! Depending on how much of this spicy chowder you can handle in one sitting, it makes 3-4 servings.
This picture doesn't do the Fall Chowder justice, it looked and tasted yummy in person!
I like to eat my Fall Chowder with a few slices of Sharp Cheddar Cheese and some tortilla chips to help cut down on the heat. This particular batch made my eyes water, nose run, forehead sweat, and lips tingle. But boy was in good!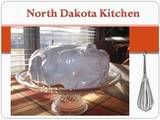 Every fall I also like bake my favorite apple dishes such as Apple Pie, Crisp, Turnovers, and good ole baked apples. This year I wanted to venture outside my usual Apple comfort zone and try a
new
recipe. I found a delicious new recipe for
Dutch Apple Bread
courtesy of
Shannon from North Dakota Kitchen.
It was so yummy while it was still warm and the apples were perfectly cooked through out the loaf. The day after baking it I buttered up a few slices and threw them on a hot skillet for the best toasted apple bread I have ever tried.
If you'd like to try this recipe head over to North Dakota Kitchen soon. Shannon has a wealth of other delicious meals, sweats, and treats to share as well.


I hope you have found some fall food inspiration here or from the lovely ladies who have inspired me. Thanks again to the gals at Messy Aprons and Shanon from North Dakota Kitchen!